Fontainebleau State Park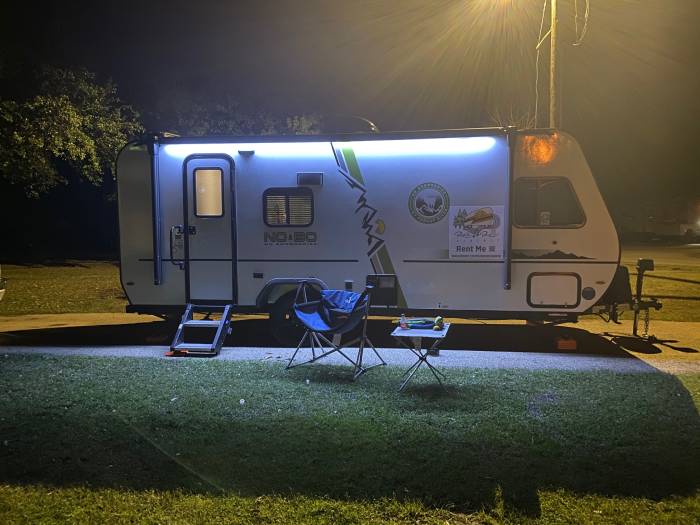 by Brian Johanan
on
Fontainebleau State Park is my first camping trip of 2021. With warm weather arriving, I was ready to head out camping. The park has over 120 campground sites with water and electric hookups. Most of the campsites do not have sewer hookups, but a dumping station is a short distance inside the park. Depending on your hobbies, you will find many different activities while visiting the park. The state park is on the north shore of Lake Pontchartrain. Traveling from Memphis to the park was a little less than 400 miles.
My trip
I traveled to Louisana on Thursday, March 4th, for a long weekend. I wanted to stay at a park near the water in Louisana and researched parks online. I decided that Fontainebleau would be the ideal location for camping. I originally made reservations for February 18th to celebrate my birthday weekend. Mother Nature had different plans, dumping snow on the Memphis area all week. I called the campground, and they changed the reservations for free due to the ice and snow storm most of the country received.
I would start my mornings off early to watch the bright Louisana sunrise out of the horizon. My dog Indiana Jones was present on this trip, and we would head out for a walk after watching the sunrise. Traveling by myself, I enjoy having Indy on my camping trips. This campground was very dog-friendly. Most of the campers had dogs with them while camping. I was not kept awake at night by barking dogs, though.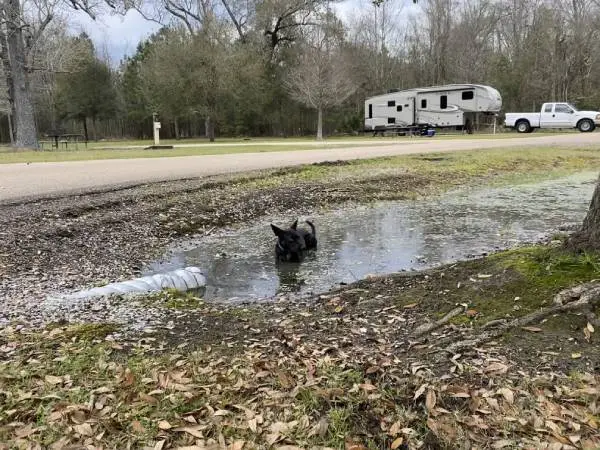 Indy sitting in the mud at the campground
Things to do
One of my neighboring campers told me about Cane Bayou and was planning on taking his kayaks there. I didn't have a plan for the day, so I decided to head to Cane Bayou. Cane Bayou is less than 3 miles from the campground and is part of Fontainebleau State Park. Cane Bayou is where I had an alligator encounter, as the gators were starting to sun themselves. I had forgotten my life jacket and was able to rent a jacket from Bayou Adventures.
Sunday, I crossed Lake Pontchartrain to head into New Orleans. It is a 25-mile trip to cross the bridge with a $5 toll. I wish I had more time to spend in this historic town. I don't remember enjoying the ambiance the last time I was in New Orleans over a decade before. I parked several blocks away from Jackson Square and walked there. Parking seems like it could potentially become an issue. I was able to enjoy the different sites as I walked to my destination. I bought beignets from the world-famous Cafe Du Monde. That morning the weather was stunning for the riverwalk and beignets. You can hear live music playing throughout the city. Many artists have their artwork on display in Jackson Square.
Lucille was the camper we took on this trip. We have two kayaks and a paddleboard available for rent during your trip.
Rock N Roll Rentals operates out of Memphis, Tennessee. Currently, we have two camping units available for guests. We offer delivery and set up as an additional service for our rental camper units. We want to make your rental of a camper as easy as possible.